Embracing Equity: The Path Forward on International Women's Day
"For International Women's Day 2023 and beyond, let's all fully #EmbraceEquity. Each one of us can actively support and embrace equity within our sphere of influence. Everyone everywhere can play a part. Collectively, we can all forge positive change." IWD 2023.
International Women's Day (IWD) is a time to celebrate the progress that women have made in breaking down barriers and achieving equality. But it is also an opportunity to reflect on the work that still needs to be done to achieve true gender equity. On this International Women's Day, let us embrace the idea of equity and recommit ourselves to the work that needs to be done to create a world where women have equal opportunities and are valued for their contributions. By working together, we can create a world where every woman has the chance to reach her full potential.
With a senior leadership team that is 50% female and a commitment to diversity of thought, CTM's Global Head of Sustainability and ESG, John Nicholls, highlights how the embrace equity ethos is visible across the business. "Joining CTM as the Global Head of Sustainability and ESG, it has been refreshing to witness a high percentage female workforce, and we embrace the diversity of thought we have in all the decisions that we make. It is something we need to celebrate. Our senior leadership team including our Board is 50% female – providing us with a balanced culture and equity of influence in our decision-making. The embrace equity ethos is visible across our business."
Mary Ellen Hess, CTM's Executive Vice President of Business Development – North America, emphasizes the importance of collaboration and empathy in creating an inclusive and equitable workplace for everyone. "I find myself drawn to the CTM value of "collaborate to perform" when it comes to our commitment to embracing equity. It's crucial that we all take responsibility for creating an inclusive and equitable workplace, and that means being willing to speak up when we see situations that don't align with these values. However, I also believe that we must approach these conversations with empathy and a personable attitude. It's not about calling out individuals or assigning blame, but about working together as a team to identify areas where we can improve and support one another. After all, creating a workplace where everyone feels valued and respected is a team effort, and we all have a part to play in achieving this goal."
We asked our CTM employees from all around the globe how they or someone they know contributes to the progressing theme of #EmbraceEquity and this is what they had to say…
Gillian D
"My mother-in-law dedicated many years of her life to educating women on financial literacy and empowering them with knowledge and skills to find financial freedom and independence. She worked mainly in the not-for-profit sectors, particularly with local women's centres, with the women that were victims of domestic violence, sexual assault, and poverty. She always advocated for equity and that as women, we need to stop asking for special treatment – but instead expect a society where gender equality is the new normal.  Her work and programs have been used in several University syllabi and although now retired, she continues to assist and inspire women within her local rural community."
Angie L
"I am proud to work beside industry leaders who embrace equity and am lucky to be on a close team led by Mary Ellen Hess. She leads by example within CTM while acting as an external ambassador to the next generation. Her work with WinIt and GBTA to developing a one-to-one mentorship program is the kind of work that results in real change, solidifying industry-wide efforts to embrace equity, equality and promote allyship, one relationship at a time."
Tanya R
"I have a friend who for much of her career has worked in male-dominated industries – construction and trades. In her early 20s, she was a tiler which bemused anyone she met and often did not believe her. These days she is in a management position working for a reputable construction company leading an all-male team and was more recently nominated for a 'women in construction' award. I am proud of her kicking goals and demonstrating that females can pave the way in industries that have typically been predominately male and I am proud of that company for supporting, encouraging, acknowledging, and rewarding her efforts.
"This isn't a male versus female battle, but rather an example that gender equity should and can be embraced and nurtured. Both men and women should be encouraged to pursue their ambitions and challenge gender stereotypes, especially in the workplace. The world has certainly come a long way and it is refreshing to see more and more women have a seat at the table."

Anonymous
"There are so many more women out in the world now who embrace gender equity – and the travel industry is full of them. Its been a pleasure to watch this change in my 40 years in the workplace and I look forward to seeing it continue. CTM is a prime example with many women in key and growing roles, setting great examples for those up-and-coming in the industry."
Amila G
"I am a new immigrant to Australia from Sri Lanka. In my culture, the male plays a dominant role in the household and is expected to only go to work and support the family financially. All other household duties are supposed to be the mother's responsibility. Even today, this culture is expected where the man does not cook, clean, or run the daily household. Since migrating with my young family a few months ago, Australia's culture has encouraged my husband to contribute to the day-to-day activities of running a family. After 17 years of marriage, he cooked his first meal by himself!
"As a corporate woman with over 15 years of experience, this has always been a constant challenge where I felt like a single parent. However, I see him slowly but surely, embracing equity to forge harmony and unity, and to help drive a successful future for us in our adopted country."
Anonymous
"To me this year it is about standing up as one community and accepting we have a great mix of senior men and women in our leadership teams. As a woman, I feel empowered in my role and equal to my peers of all genders. Today, the focus is on being who you want to be."
Joanna P
"Sometimes improving equity and equality in society starts with a better awareness of those around us and taking the time to understand obstacles or circumstances that are different than one's own. I have done a lot of work in the not-for-profit sector providing education to women about domestic violence – what it is, how to identify the signs of danger, and how to get out and break the cycle. While domestic violence can and does affect all people, it is particularly increasing towards women and the statistics are very sobering. But, everyone can help turn this around by educating yourself, knowing and sharing the resources available in your local community, and letting friends and family know you are an ally and a safe person to reach out to."

Nicole G
"While I am very supportive of all genders, in the spirit of International Women's Day, what I love to see the most is women supporting other women in their endeavours.  At CTM, with a strong percentage of women in our workforce, my experience of our female Leadership is very positive without any competitiveness.  It's a great environment to work in and I hope it continues to be that way for a long time to come!"
Mereleini T
"As a native woman of Namoli koro (village) in the bustling city of Lautoka, Fiji; I have experienced a lot of instances where equity and equality are acknowledged in my culture. My most interesting story is that of how women can now partake in kava consumption however it is only for occasional purposes. Kava is the traditional drink of Fiji, that originally was consumed by men only during traditional ceremonies of importance. In today's world, kava consumption between all genders has become a common setting and is one that fosters healthy friendships whilst maintaining family ties or just simply catching up with old friends. A friendly smile, a funny joke, and enjoyable company is one you can expect."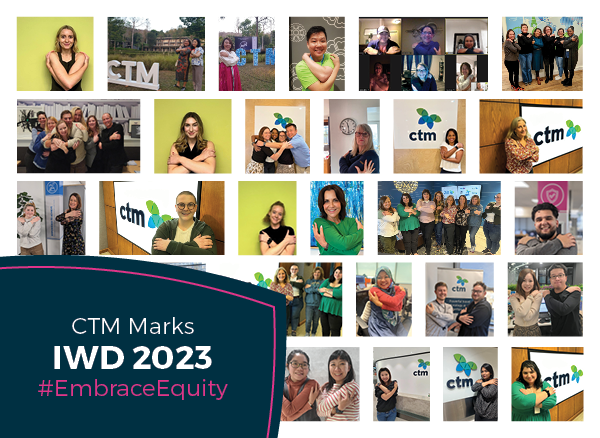 That's a wrap for this year's International Women's Day theme!
Contact CTM to speak to a travel expert and arrange your travel today.